9N/2N steering gears alignmnet tool
[ Follow Ups ] [ Post Followup ] [ Tools Forum ] [ FAQ ]
---
Posted by John in Mich on January 05, 2016 at 19:52:04 [URL] [DELETE] :

Last year I replaced the steering gears in a 9N. The "How-to's" section had a procedure by John Korschot. (I just went to that and could not pull it up.}
I was concerned with trying to hold everything while getting the proper clocking of the steering shaft so that the keyway for the steering wheel allowed me to place the steering wheel with one spoke straight forward. I kind of reverse engineered a fixture that allowed me to meet my need.
1. I set the gears into the lower portion of the box and attached the steering links. I aligned the front wheels with approximately 1/4" toe in.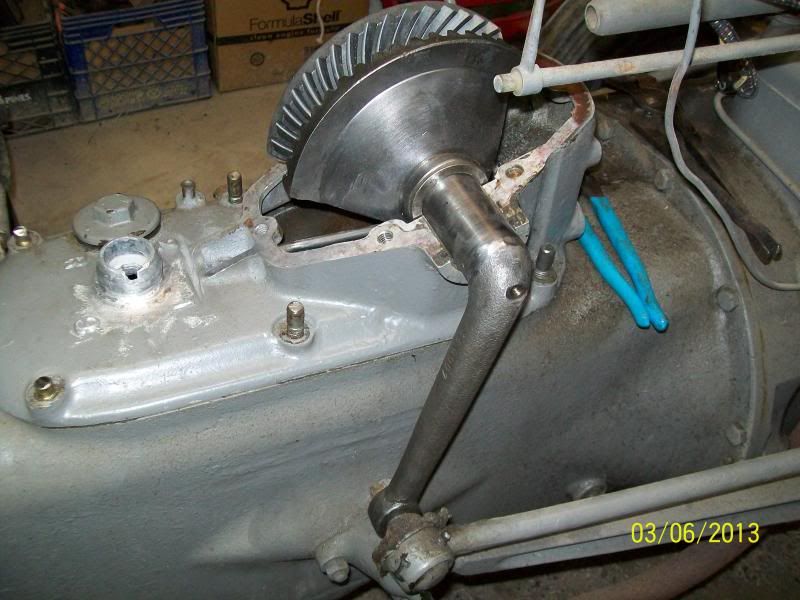 2. Using a square, I marked the position of steering gear arm onto the base of the transmission cover/steering housing.


3. I made some locating pins by cutting off some bolts and installed them in the trans.
4. I used the trans cover to mark out holes on a piece of OSB to fit as a temporary "trans".
5. I transferred the marks from the trans cover to the OSB.
6. I cut notches in the OSB to hold the steering gears in position while I positioned the top of the steering box with the steering wheel and shaft assembled.


7. As the top is placed onto the gears, the steering wheel rotates slightly. It took a couple of attempts to get the right clocking of the steering wheel.

---
Post a Followup:
---
[ Follow Ups ] [ Post Followup ] [ Tools Forum ] [ FAQ ]