Rules For Safe Tractor Operation
[ Safety Forum ] [ FAQ ]
---
Posted by Tim Daley(MI) on February 07, 2010 at 09:53:03 [URL] [DELETE] :

Using basic common sense is always the best rule, but if you don't know, best to educate yourself before equipment damage occurs or worse yet an accident happens. Here is a scan from the '43 Ford-Ferguson Service Manual of the back cover which lists safety rules for operating the 'N' Tractor. This manual is probably in a lot of N owners' shops but how many have actually read it? Save a copy to your Tractor Pics folder and print it out and post it in your tractor shed. Be safe!

1943 FORD-FERGUSON SERVICE MANUAL, BACK COVER/SAFETY RULES...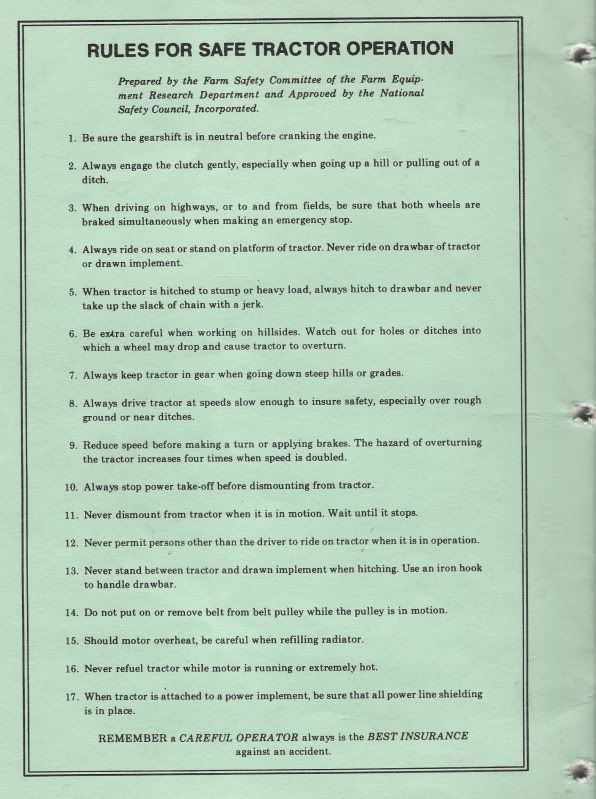 -1943 FORD-FERGUSON SERVICE MANUAL, FRONT COVER...
Tim Daley(MI)
*9N653I* & *8NI55I3*
---
Subject:

Posting not permitted in the forum archives.<1265554383">
---
[ Safety Forum ] [ FAQ ]