Re: Ferguson light question
[ N Board Forum ] [ FAQ ]
---
Posted by Tim Daley(MI) on March 08, 2017 at 07:51:58 [URL] [DELETE] :

In Reply to: Ferguson light question posted by Doug Siperly on March 07, 2017 at 20:15:01:

Yep, the lights Del shows are the Ferguson headlights made by the CM HALL Co; Detroit, MI and should have their logo stamped by the ball socket pivot base on the shell. The logo should be HALLAMP in an oval. You can identify the HALLAMP lights used on Ferguson Tractors (not FORD)by the two bezel screws 180° apart as shown and the logo stamp. These were used by Ferguson exclusively for several years. FORD used CM HALL early on for the large truck style headlights on 9Ns, then came out with their own on later 2Ns and soon the sealed beam lamp was invented and everyone went to that style. CM HALL was the only approved vendor to Ford to supply the 8N-15500 Implement Lamp too. Their units were almost identical to the ones Ford produced at their Flat Rock Lamp Factory and carried their CM HALL diamond stamp logo. This was different from the later HALLAMP logo used on the Ferguson Tractors, but still the same company. I have some Ferguson lights, restored, to part with if anyone is interested. I have headlights, TAURUS taillights, HALL taillights, and a HALLAMP worklight.

FERGUSON LIGHTS -SUPPLIED BY HALLAMP:

HALLAMP LOGO STAMP ON BUCKETS: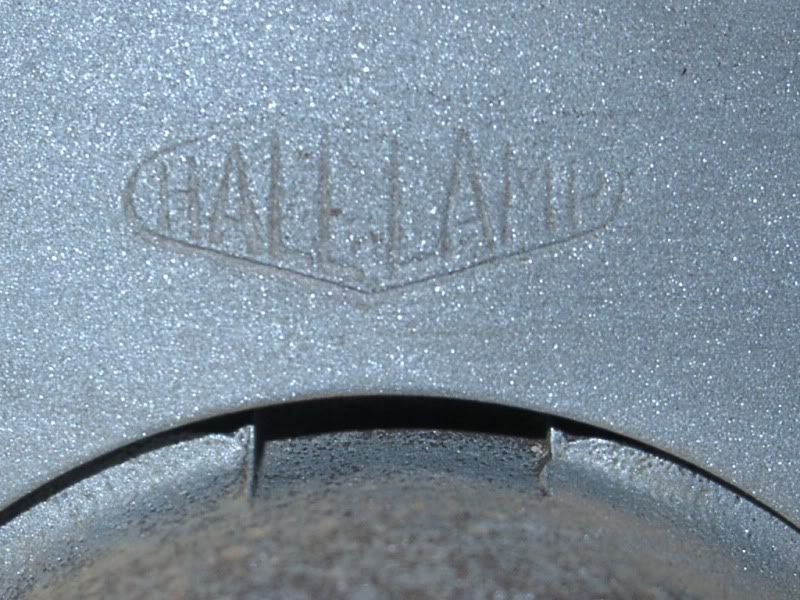 FYI - CM HALL 8N-15500 IMPLEMENT LAMP VENDOR ID LOGO STAMP:

-note -only used on Ford Tractors...
Tim Daley(MI)
---
Subject:

Posting not permitted in the forum archives.<1488977518">
---
[ N Board Forum ] [ FAQ ]