Re: 2N Hand Crank blueprint, dimensions.
[ Follow Ups ] [ Post Followup ] [ N Board Forum ] [ FAQ ]
---
Posted by Tim Daley(MI) on December 19, 2018 at 06:52:38 [URL] [DELETE] :

In Reply to: 2N Hand Crank blueprint, dimensions. posted by Tom (WI) on December 18, 2018 at 18:09:46:

There's a How-To drawing of the hand crank for making your own but it has at least one incorrect dimension on it. The OEM 9N-17040, 2N-17040, and NAA-17040 Ford hand cranks were 11/16" diameter round stock, not 5/8" as shown on this drawing. The lengths shown on the DIY drawing are also wrong. In addition, the wood spinner handle was never on the original 9N or NAA hand crank, only on the 2N unit, and there was never an '8N' model/part. ALL 9N, 2N, and 8Ns used the 9N-17040 hand crank in the parts shipping kits. FWIW: The NAA-17040 hand crank, issued with the NAA Model, was identical to the 9N version except it now had a knuckle on the crank end. It is also important to know that hand cranks will not work if you have a grille guard (bumper) installed. Grille guard/bumpers were never factory installed parts -always dealer optional accessories.

D-I-Y HAND CRANK -NOTE NOT TO OEM SPECS: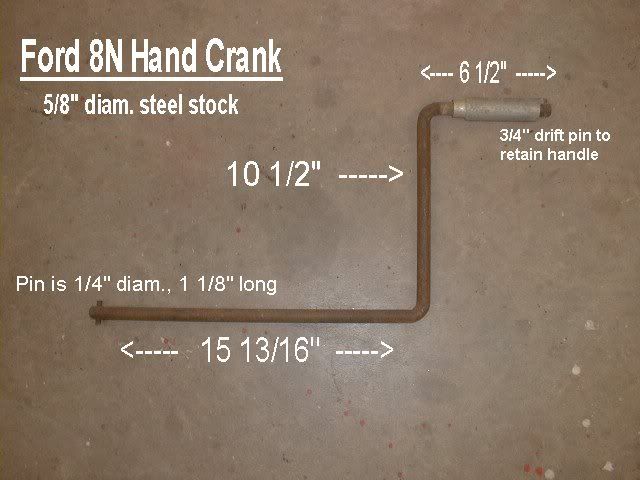 Chris and I are working on finding a supplier of the spring. The drawing specifies the spring as:
ID = .75 ± .010"
Spring Wire Diameter = .062"
Free Length = 4.75"
19 Coils, 17 Free, Closed End, Ground, L.H. Spiral.
Nobody stocks a standard one, and the LH spiral might have to be dropped in search criteria. I'd speculate that most want a crank for their wartime 2Ns mostly for show anyway. It is possible to get it custom made, and that is what we are waiting on now. As with anything, the more produced, the cost of manufacturing and selling it for will be reduced. That being said, there probably is not a big market for these. Doing the math, with a 3/4" ID and a wire diameter at 1/16" the OD calculates to be 7/8". Since the spring OD does not encroach into the crankshaft nut, the OD is not that critical. However Chris measured the grille access hole and said it is 1" so the spring OD cannot exceed that.
ORIGINAL FORD 2N-17040 HAND CRANK:

ORIGINAL FORD TRACTOR HAND CRANKS:


SHOWN TOP TO BOTTOM: 9N-17040; 2N-17040; NAA-17040

Tim Daley(MI)

SPRING - Tim Daley(MI) 07:19:09 12/19/18 (0)
---
Post a Followup:
---
[ Follow Ups ] [ Post Followup ] [ N Board Forum ] [ FAQ ]