Re: snow blade
[ Follow Ups ] [ Post Followup ] [ N Board Forum ] [ FAQ ]
---
Posted by Ultradog MN on December 03, 2017 at 15:56:15 [URL] [DELETE] :

In Reply to: snow blade posted by Larry on December 03, 2017 at 07:27:05: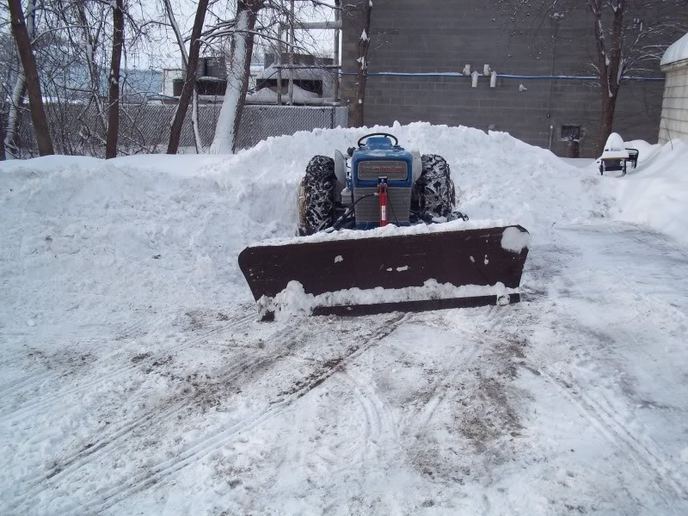 Larry,
I would say that is the dozer blade and not the snow plow. Snow plow has the same width cutting edge but is a bit taller and has rounded "wings" on the ends of the blade. Dozer usually didn't have the spring trip on it either. Ford built that identical dozer and snow blade till around 1970 or even beyond. As the models changed the push frames changed but the plows remained the same. Early ones for Ns and NAAs would gave been tagged Dearborn and would push off the rear axle with cable lift. Those for the Hundred series would push off the transmission and could either be cable lift or hydraulic lift like that one in the pic. For the Thousand series they changed the push frame again but they could still be bought cable or hyd lift though hyd was much more common.
After about 1955 the Dearborn name was gone and everything was tagged Ford. I have the correct snow plow for my 3000. It is hyd lift and pushes off the trans.
You can see the rounded ends of the snow plow in the photo.
Note the height of the snow behind it.
These Fords, from the Ns onward if properly set up with rear ballast and chains make marvelous little snow movers.
---
Post a Followup:
---
[ Follow Ups ] [ Post Followup ] [ N Board Forum ] [ FAQ ]