Re: 1939 Ford 9N Tractor
[ Follow Ups ] [ Post Followup ] [ N Board Forum ] [ FAQ ]
---
Posted by Tim Daley(MI) on May 17, 2017 at 16:04:23 [URL] [DELETE] :

In Reply to: Re: 1939 Ford 9N Tractor posted by leroy192 on May 17, 2017 at 10:50:57:

HiYa Leroy-
I think you mean to open the Fuel Sediment Bowl Valve all the way. Two full turns open for MAIN and then all the way for the last 1 gallon reserve is correct. Sometimes overlooking the basic obvious items can bite us in the behind later. It does sound like a fuel flow issue, so I would suggest to start there. First check that there is some gas in the tank -don't need a full tank just yet in case you have to remove the sediment bowl assembly. verify good Next, fuel flow to carb either by removing plug on bottom of carb or loosening the fuel line at the brass elbow inlet at carb to check fuel flow when valve is open 2 turns. Should be steady almost pencil thick stream, uninterrupted, and if any hesitation, sputtering, stops and starts, there is a good chance the sediment bowl screens are plugged. Then it's time to drain tank and remove assembly to clean screens good. There are three screens to filter the fuel in the N system -two in the sediment bowl assembly and the third is in the brass fuel line inlet at the carb. Basic, systematic, root cause problem solving will get results.

Tim Daley(MI)

Sediment Bowl Assembly & the 3 Screens in Fuel Line System (photo courtesy of Bruce Haynes):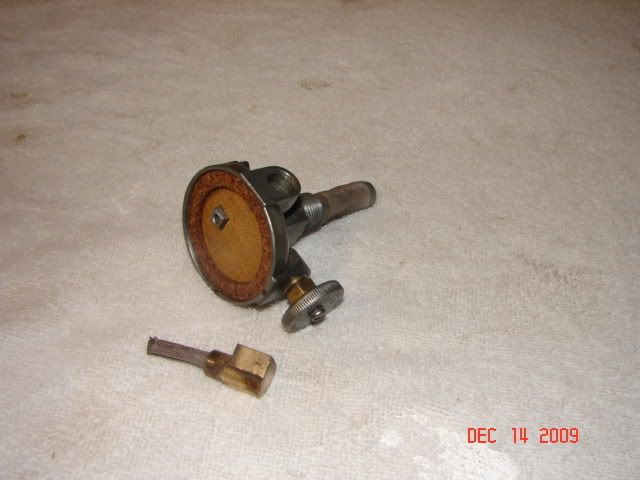 NOTE: You can buy most pieces to the sediment bowl assembly separately. The large, round, brass fine mesh screen fits on offset square inlet port on top half of assembly, with a cork gasket (recommended). Next is the fine mesh vertical screen soldered (some new ones are simply glued) to the base of the fuel inlet stem on the top half that is hidden up into the gas tank once unit is screwed into tank. The last in-line filter lies horizontally, and is soldered to the brass elbow inlet that screws into the carb. Sometimes it is best to just replace the large round brass screen with a new cork gasket and the brass carb inlet elbow. The assembly screen attached at the top can only be replaced if the whole bowl assembly top is switched, but no need to go out and buy a whole new assembly just yet. I usually check the glass bowl itself to see if it sits flat. Simply take, inspect for any caked on old cork or rubber, remove with an Exacto Blade if so, then gently rotate around on a piece of fine sand paper, Emory Cloth, or Krokus Cloth. If glass bowl seems warped and won't lie flat, get a new one -sold separately too. Final inspection of valve stem too to ensure the rubber seal isn't all chewed up which will prevent a good seal and you'll end up with leaks even when the valve is shut off. Fuel issues are one of the major causes of non-starting an d non-running tractors. You don't ever want to have any leaking gas anywhere in the line -it's just common sense and a SAFETY issue to be aware of. Once the fuel issue is resolved and the engine stopping issue is still there, we'll move on to the electrical system.
---
Post a Followup:
---
[ Follow Ups ] [ Post Followup ] [ N Board Forum ] [ FAQ ]