OT; Yard art you can use
[ Follow Ups ] [ Post Followup ] [ N Board Forum ] [ FAQ ]
---
Posted by Kirk-NJ on May 08, 2017 at 05:57:13 [URL] [DELETE] :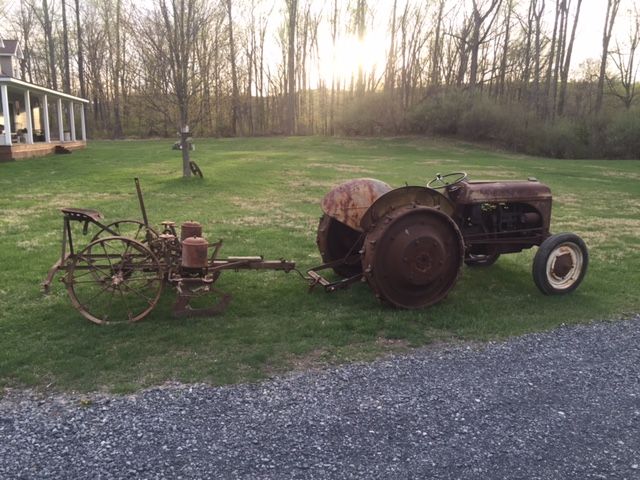 I can't believe that people leave this stuff laying around to rot. A lot of the implements I'm finding at yard sales, barn sales, moving sales and scrap yards aren't in too bad of shape and sometimes they are in reasonably good shape with some only needed a little bit of work to put back in production. Some of the old horse drawn implements can easily be converted to a tractor.
Here's one of my McCormick Deering model 102 corn planters I picked up out of a barn a couple of weeks ago. This one from the 1920's to early thirties. It only needed to be cleaned up and blade runner repair and basically it's ready to plant. It could be used For deer food plots cause you can sit somebody in the seat and drag them around with a tractor or even a quad and get some corn in the ground. I also have the same planter in a 106 model that I bought at a yard sale a couple of years ago and converted to 3pt, which is what we use to plant the deer plots in up state Pa. I like yard art as much as the next guy but I prefer my yard art to also be functional. When people comment about my 106 corn planter they are surprised when I tell them we planted 9 acres with it last year. That's not too bad for a 90 year old implement that was laying around in somebodies flower garden.
All I'm saying is don't overlook the old yard art and give it a second chance.
BTW. If you decide to pull one of the planters around you will probably have to put some kind of elbow on the exhaust cause you just about kill the guy it the seat after the first couple rows. BTDT.
Kirk
---
Post a Followup:
---
[ Follow Ups ] [ Post Followup ] [ N Board Forum ] [ FAQ ]